Take a photo of yourself discovering a giant moa: the biggest bird that ever lived! Make a bone, a footprint, or a whole bird, then break the internet with proof that these extremely extinct giants are still around and have just been hiding in your backyard!
What to do
Your mission is:
Fake a giant moa discovery. Check out the notes for the tools you need (above), and go and discover a giant extinct bird!
Instructions
1. BONE UP ON CLUES
Imagine that you're a detective and while exploring your backyard you find a huge bone. What could it be? Dinosaur? Great-grandpa?  Or … giant moa! 
2. WHAT POO-ROOF DO YOU HAVE?
Think about what evidence you'd need to prove to the world that you've rediscovered the moa. A footprint? A photograph with a live moa? A moa poo (aka coprolite)?
What did a moa eat and would its poo still somehow have corn in it? 
3. FAKE THE FIND
Fabricate the evidence! (Fabricate can mean either build or fake – in this case it's both!!) Use cardboard, papier-mâché, fur, mud, other animal bones, an old brown sock and some goggly eyes … whatever it takes to make your fake!
4. SET UP THE SCENE
Find a place to take a photo of your moa discovery. Think like a moa, eat like a moa, move like a moa, mow the lawns like a moa (oh sorry, wrong sort of moa!) ... a hand puppet could do the trick in the right light/background (e.g. your garden flax bush!).
Tip: you could use a smartphone or tablet filter to fake an old black and white photo (that you just happened to find in your granddad's shed!).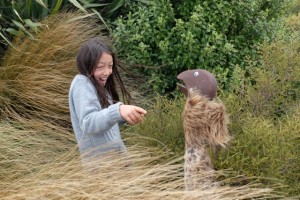 5. POST FOR SCIENCE AND GLORY
Grab some well-placed photos, upload them to Wild Eyes and trick the world into believing your remarkable scientific discovery.
Wear a helmet to protect yourself from the shower of riches surely coming your way!
SKUX SKULL
Take it to the next level and fake a T-rex discovery. You could be the next Joan Wiffen. Kiwi Joan was a dinosaur hunter who discovered what dinosaurs lived in NZ by digging up their buried bones (fossils). She found a relative of the tyrannosaurus in the Urewera.
Could you get the hunt for T-rex to come to your backyard? 
MOA MAKING TIP
There were over 10 species of moa and some were as small as chickens – so you could maybe use leftover bones from the roast to fake a fossil discovery. Pro perspective tip: if you hold a chicken bone closer to the camera and stand back it'll make it look bigger. You could make your discovery in your DIY Cave to double your points. 
Note: these guys are holding an actual giant moa leg bone not a humungous chicken (you'd need a moa-sized oven to roast that chook!) 
What's happening?
I'LL JUST WALK THANKS
For a long long … long time, there were no mammalian predators in NZ (except for pekapeka/bats), some scientists called it "a land without teeth". 
Aotearoa was pretty much paradise for the birds. Some of our birds stopped flying. The giant moa got so nui (big) that it became the tallest bird that EVER lived!
They didn't have a lot of natural predators to fly away from, until ... 
RAIDERS OF THE LOST ARK
... until we humans arrived:
RATS!
With us humans came other invaders: from 1250 AD Polynesians brought kiore (the Pacific rat) to NZ which wiped out some smaller species of birds, as well as frogs and lizards. 
Europeans came from the late 1700's, bringing more rats (ship rat and Normway rat), and cats, stoats, weasels and ferrets. Like the kiore, these predators could reproduce rapidly and travel widely. The new arrivals could also kill larger prey, and some could also swim and climb!
WE'RE NOT LAUGHING NOW!
The native birds weren't ready for the invasion ... Evolution (and adapting to threats) can take longer than it takes you to tidy your room ... a lot longer!
Imagine if martians arrived in NZ on a space-waka and they were all bigger and faster than us and they saw us like how you see ice cream (nom nom...), and you get some idea of what it was like to be a bird.
One of the awesome birds we lost forever was this laughing owl (whēkau); even though it was a sharp mouser with a wicked cackle, people, rats and cats ultimately hunted whēkau to extinction.
HUMAN HUNTERS
Humans hunted large animals – moa and other large birds, and seals, for food and for other animal products like skins, feathers and oil. 

This resulted in the first human-caused extinctions of New Zealand species. The moa meal deal only lasted a couple of centuries. Rough.
Inspiration
EAGLE VS YOU
Before people, moa's only predator was a massive bird of prey called Haast's eagle (aka 'pouakai' or 'hokioi') ... It was one of the largest and most deadly predators the world has ever seen with a 3m wingspan and claws strong enough to pick up a child!
Check out this awesome recreation of a pouakai catching a child. That's one hard-out walk to school!
Takeaways
Moa were easy prey for early Maori. Because they couldn't fly they were easy to catch and herd into pits to be killed, especially the chicks which dogs (kuri) would have eaten.

Scientists reckon moa were eaten to extinction by 1500
FRANKEN MOA
Some scientists reckon we can bring the moa back to life using DNA found in bones… but anybody who has seen Jurassic Park knows that this is a Very Bad Idea. Or is it? – what do you think?
THEY AIN'T NO MOWER
By the way – the word 'moa' is pronounced more like the word 'more', than the word 'mower'.